SOURPUSS MONSTER TATTOO BOWLER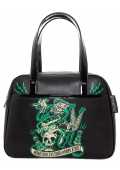 SOURPUSS MONSTER TATTOO BOWLER
Monsters, Tattoos, Rock & Roll... what more could you ask for?! Our Monster Tattoo Bowler Purse features a certain monster expertly tattooing his bride, right over his lap, no less! This purse is perfect for toting everything you need, with sturdy straps for ease of carrying, pockets for organization and protective metal feet to keep your bag standing upright when you need to set it down.
ADDITIONAL INFORMATION:
Made by Sourpuss
Vinyl w/Poly-Satin Lining
13.5" x 10.5" x 5.5"
Protective Metal Feet
Reviews
Featured Products